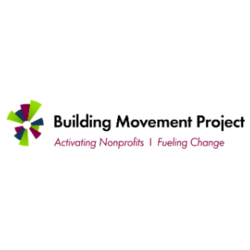 Senior Research Manager
Sorry, this job has expired.
New York, NY
Overview
For nearly two decades, the Building Movement Project (BMP) (buildingmovement.org) has cultivated the potential for nonprofit organizations to effectively partner with movements for progressive social change. We learn by listening to groups and leaders about what it takes for organizations to align their social justice principles with their operating practices. Our research and practical resources help organizations innovate to meet the needs of the communities they serve and face the challenges of the external environment.
BMP concentrates on the following three main areas to accomplish our goals and advance social change:
Leadership: Analyzing how organizations can do their best work, encourage diverse leaders at every level, and promote the most effective and inclusive practices;
Movement Building: Acknowledging and building on the distinct role of nonprofit organizations in advancing movements for social change;
Service and Social Change: Developing the capacity of organizations to engage constituents in changing the systems that impact their lives.
The Building Movement Project is a fiscally sponsored project of TSNE (tsne.org) and is based in New York City.
Responsibilities
We are seeking a full-time researcher to join our staff team. The Senior Research Manager will work on our national projects focused on leadership (including our Race to Lead reports and the development of a race equity assessment), service and social change (Tools to Engage), and movement building including SolidarityIS, as well as our place-based projects in Detroit and New Mexico. The Senior Research Manager will work closely with BMP's co-directors and senior staff members, and will supervise the Research Analyst.
Responsibilities of the Senior Research Manager will include:
Lead and/or support multiple research projects;
Supervise the Research Analyst who will help with data collection, analysis, and drafting reports, memos, articles and blogs;
Work closely with Building Movement Project staff and team members;
Contribute thought leadership and strategic insights to the development of future projects;
Collaborate on the development of surveys, interview protocols, and other data collection tools;
Oversee and conduct qualitative and quantitative data analysis;
Summarize data and make meaning of findings;
Produce graphs, charts and other forms of data visualization;
Write reports, memos, articles and blogs;
Present findings in presentations, panels, social media, and other venues.
Qualifications
We will consider exceptional candidates who demonstrate a strong combination of the specific qualifications and skills described below.
Master's Degree and at least seven years of relevant work experience in a related field (experience may be substitute for additional education);
Ability to produce high-quality written products that make complex insights from data and research interesting to the public, and tailor the length, voice and format to a variety of audiences;
Strong quantitative analysis skills including data cleaning, analysis, visualization of findings and proven facility with data analysis software such as SPSS, Stata, R, etc;
Strong qualitative research skills including conducting interviews, facilitating focus groups, and experience analyzing / coding qualitative data using qualitative data software programs such as NVivo;
Demonstrated ability to craft insightful surveys, and familiarity with a range of online survey platforms;
Experience with social network analysis software programs is a plus;
Strong presentation and facilitation skills;
Experience working collaboratively with diverse teams, and translating the needs of staff into useful research products;
Track record of managing multiple projects concurrently and prioritizing work effectively;
Commitment to – and a demonstrated track record of – working with social change/justice organizations; able to build authentic relationships with diverse stakeholders, including valuing the insights from people's lived experience;
Knowledgeable about issues related to race and race equity.
Physical Demands/Work Environment
The physical demands described here are representative of those for this position. Reasonable accommodations will be made to enable individuals with disabilities to perform the functions. Work is performed in an office environment and in close proximity to other workers.
While performing the duties of this position, the employee is required to:
Handle, or feel objects, tools or controls;
Reach; traverse; sit (usually for longer periods of time); occasionally ascend/descend; and position self (to) move;
Occasionally lift and/or move up to 25 pounds;
The noise level in the work environment is usually moderate;
Job is not subject to significant occupational or environmental hazards;
Likelihood of personal injury would be relatively slight;
Environmental and work hazards are not present to a measurable degree.
TSNE/BMP envisions a society grounded in the principles of social and economic justice. As such, we strive to achieve excellence through a diverse and inclusive workplace that honors the unique talents and lived experiences of each person. Our vision and values are reflected in all our employment-related decisions, including hiring practices. Accordingly, TSNE actively seeks people who bring diverse backgrounds and perspectives to join us in our work.
As an EOE/AA employer, TSNE/BMP will not discriminate in its employment practices due to an applicant's race, color, religion, sex, national origin or ancestry, age, sexual orientation, gender identification, genetic information, veteran or disability status or any other factor prohibited by law.
12497948